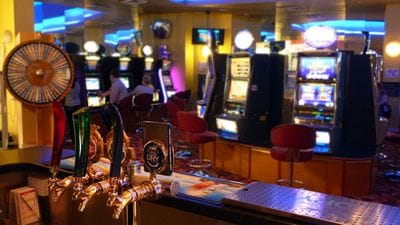 Gaming
The Shearer's Arms Tavern gaming lounge has something for everyone.

We offer gaming in a relaxed, friendly atmosphere in air conditioned comfort. Pokies, Keno and Keno Racing are all available for your entertainment along with an ample supply of friendly, knowledgeable staff willing to help you in any way they can. Our room offers 40 gaming machines which consist of a wide variety of 1c, 2c, 5c, 10c, 20c, and $1 machines. We have Jackpot Carnival and Fast Lane links which both have a maximum prize of $22,000. The room also offers linked Rapid-Fire jackpot machines as well as a great number of stand-alone Double-Shot and Quad-Shot jackpot machines, 8 Lightning Links machines and 5 new Dragon Link machines.
We run promotions from Thursday to Sunday including members' weekly draws every Thursday night. Our members' night kicks off at 4:30pm when our Early Bird Members' Draw rewards one lucky member with $100 for being present before 5:30pm. We then continue the night with a Members' Draw at 6:30pm and again at 7:30pm. Our weekly jackpot starts at $500 and increases by $100 a week if not won. We then continue our members night with triple points for playing members right through until 10pm. Conditions apply. Gaming room only. Winners must be present at time of draws to claim their prize. See staff for details.
Accompanying our daily promotions, we run major promotions throughout the year. To participate in any of our promotions, patrons must be members of our gaming room. To join will cost you nothing, just ask one of our friendly gaming staff to sign you up to our Shearers Rewards program and you can start earning points straight away in all areas of our venue. You can now earn points on every dollar spent in the venue as well as redeeming points for cash within the gaming room and spending points on purchases throughout the venue.
In addition to our promotions we offer:
free tea, coffee, and snacks
a full serviced bar
friendly, helpful staff
keno and keno racing
an outdoor smoker's patio
a rest and relaxation lounge
a friendly, safe environment
guaranteed trading hours
So come down and try your luck at the Shearer's Arms Tavern gaming lounge. You'll feel right at home in its cozy surrounds, licensed 7 days a week from 10am to 4am.
Guaranteed Trading Hours
Sunday - Wednesday 10am - midnight
Thursday 10am - 2am
Friday - Saturday 10am - 4am
The Shearer's Arms Tavern is committed to providing the highest standards of customer care and responsible gambling. For more information on our Responsible Service of Gaming please click here. If Gambling becomes a problem please call the Gambling Helpline on 1800 858 858.
MINORS AND EXCLUDED PATRONS ARE PROHIBITED FROM GAMBLING AND ARE NOT PERMITTED TO ENTER DESIGNATED GAMING AREAS