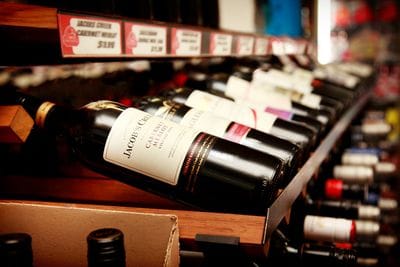 Bottle-O
Drive in and get your supplies at the drive-thru Bottle-O at the Shearer's Arms Tavern. We have a huge selection of beers, spirits, wines and bubbly on hand for all tastes and budgets. Our Bottle-O includes a hand picked selection of craft beer and ciders to satisfy the thirst of anyone looking for something new, while still stocking the old favourites at the competitive prices our bottleshop is known for. Walk in and browse our extensive range in air-conditioned comfort or relax as we come to you in our express drive-thru. Our friendly and helpful staff are more than willing to assist you in your selections and whether you're after the perfect drop for a special occasion or are looking to try something new, you're sure to find what you need at the Shearer's Arms Tavern drive-thru Bottle-O.

We offer:
fast, efficient, friendly service
mobile EFTPOS for your convenience
air conditioned liquor barn for your shopping comfort
ice cold beers
corporate wholesale with free delivery
FREE BBQ every Friday afternoon
Specialising in corporate accounts, our friendly staff will be more than happy to help you with your next party or function. For corporate sales enquiries call (07) 5547 5822.

The Shearers Arms Tavern drive thru bottle shop is open 7 days a week.
Service Hours:
Sunday-Wednesday 10:00am-8:00pm
Thursday 10:00am-9:00pm
Friday-Saturday 10:00am-10:00pm